My friends and I had a very successful bow party on Saturday night. I highly recommend doing one, yes you'll have fun, but more importantly you'll have GREAT girl time, away from husbands and kids. We met at 4 o'clock to go shopping for ribbon and hardware, (to which my husband said "why aren't you doing your shopping before? Doesn't he know anything about women? ;)) We were back from shopping by 6.30ish (oops, maybe took a little longer than anticipated). After getting back to the house, we put in Pretty Woman as background noise, if you're wondering, yes I do know ever line to that movie. Then heated up our spinach artichoke dip-DELICIOUS, and turned on the oven for korking some ribbon. Let the fun begin!! We made bows and talked till a little after 11, it was so awesome. I was exhausted when I got home considering I had been up till 2am the night before finishing The Monster's tent (yes, it's complete, post with pics later). Here are pics of the bows I got done. Well the brown and pink one I did Sunday afternoon, so yeah I only got five done. How's that for five hours of work?! As you can see I was probably doing a lot more talking, and eating, than bow making.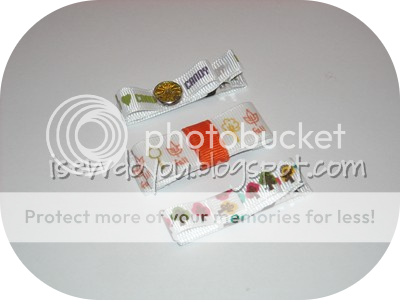 The 50mm snap clip in center is the ribbon print I designed. I think it turned out SO CUTE!! The other two were
American Crafts
seasonal spools, only .99 cents at
Michael's
.
Another American Crafts ribbon, found the jewel pack at
Hobby
in seasonal.
Ribbon from Hobby in fabrics section.

Ribbon from Hobby in the wedding section. This spool was 10 yards, not quite sure what I'm going to do with 10 yards of this, but my one bow turned out cute.

I've also got one korker in the works, but I don't know if I'm going to like it. We will see.

Happy Bow Making!